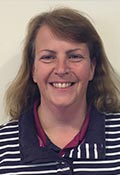 Jacqui Sykes
Email: jacqui.sykes@littleacornscalne.co.uk
First Contact No: 07703 824996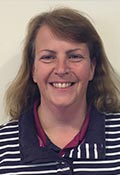 Personal Details: My name is Jacqui Sykes and I am a registered Childminder living in Derry Hill. I live with my husband and the youngest of my three daughters, Emma aged 18. We also have two cats and a 8-year old black labrador called Bella, who is fully house-trained and great with the children. I have been childminding for over 17 years and have looked after many children in that time and I really enjoy it. I have a large playroom and kitchen and a downstairs toilet, plus a secure garden with lots of toys and a playhouse. I am registered with OFSTED and a member of PACEY (Professional Association for Childcare and Early Years) and part of Little Acorns who meet up twice a month to play, do craft and socialise with other children. I am also part of the Wiltshire Quality Improvement Cluster.
Activities: I have a very wide range of toys and resources available in a safe and stimulating environment for the children. I work within the EYFS guidelines and make learning fun and enjoyable, whilst meeting the child's individual needs. Activities like arts and crafts, singing and dancing, dressing up and role-play, story-time and cookery are all regular things we do. I do a party at Christmas in the village hall and have a couple of coffee/open mornings for parents to come and join in. As well as time at home, we may visit soft play areas, parent and toddler groups, local parks and other childminders houses. We also visit Whitehall's Garden Centre, Bowood in the summer, Roves Farm and Lydiard Park. I have taken children to the theatre and even down to the beach at Studland Bay on TD days.
Each child has their own learning journey with lots of photos of craft and activities in it. This is shared with parents and is a lovely record of their early years development.
My Experience:
ICP training (CACHE level 3 certificate in Childminding practices)
First Aid in Early Years – expires March 2021
Food Hygiene – Level 2
Safeguarding – Level 3
Child Protection
Level 3 Diploma in Children and the Young People's Workforce
Level 4 Unit – Understanding the needs of children and young people who are vulnerable and experiencing poverty and disadvantage
Behaviour Management
Essential SEN training for Childminders
Contractual Details:
I work term time, from 7.30am until 5.30pm Monday through until Thursday and 7.30am until 9am on a Friday. Outside of these hours are negotiable, so please contact me if required. I pick up from Derry Hill School and various nurseries or pre-schools as required.
I can also provide breakfast, packed lunches or home cooked evening meals as required, for an additional charge.
My fees are £4.20 per hour and I am happy to accept childcare vouchers from Computershare, Edenred, Kiddi Vouchers, Sodexho and Allsave and am willing to apply to any other company your employer might use.
Other Details: Ofsted Number EY250983
Email: jacquischildminding@btinternet.com