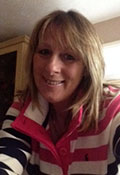 Julie Canto
Email: julie.canto@littleacornscalne.co.uk
First Contact No: 01249 817395
Second Contact No: 07759414105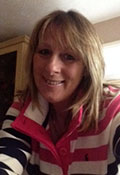 Personal Details: Hi my name is Julie Canto I live on the South Side of Calne in a quiet Cul-d-sac with my two children Emily who is attending Hardenhuish and Jamie presently attending Holy Trinity till July 2014. I've been a OfSTED registered childminder since leaving my full time career in 2004, from a pharmaceutical company, of 21yrs to look after my two children, I have an assistant who has a CRB check who I have known most of my life and has been with me since starting my childminding and also looked after my own two children when I was working, she works ad-hock when I have various school pickups, also if I have appointment, I can still offer the full care instead of rearranging.
Activities: I complete a daily diary for all preschool children; each child also has their own learning journey folder, with their paintings, drawings, observations and photos of activities and trips out. This shows the parents how their children are developing through play and structure, and by working with parents and themselves to add to their growing up and decision making ,with also a reminder and keepsake of their child's early stages in life, We go on varied outings, local childminding group, other childminders, Soft play Centres, to maintain a good form of relationships with other children, local parks, Lydiard Park, picnics to the local nature walks, Roves Farm, or places of interest Whitehall garden centre when they have activities on, we get out as much as we can, but also enjoy our home time, which I have a designated play room where we do our arts and crafts, music and dance, free play, cooking, dressing up role play and just fun times also quiet time to read books and where sleep if its required, I have a safe and secure garden for outside play.
My Experience: ICP training (CACHE Level 3 certificate in Childminding Practices) First Aid in Early Years, Promote Healthy Eating , safe guarding Level 2, child protection, Food Hygiene, Full Clean Driving Licence, NVQ Level 3 in Childcare, Learning and Development, a Diploma in child psychology, I have looked after children from 4 weeks to 16 yrs I was a nanny for a few years, which included a child with special needs where I helped in the transitions of preschool and mainstream school, plus being a mum who understands the needs of parents going out to work. I offer as much as possible the continuality, of care to make the transitions as easy for the child and the parents as separation can be sometimes upsetting, with a warm welcome homely environment, where you and your child can feel safe and secure, well cared for, as an individual, but also that they are part of one big safe happy family.
Contractual Details: My hours are 7am till 7pm Monday till Thursday, Friday is till 6pm, i work term time and holidays, prices or hours can be discussed, I am now able to offer the free 15hours government funding for you to either use my setting or share it with a nursery of your choice,, I am happy to pick children up from schools, pre-schools where possible and I can adjust my times to fit the needs I will, for any other information please contact me on the above numbers. Various spaces available from July 2014