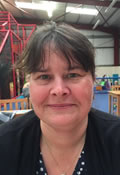 Alyson Garland
Email: alyson.garland@littleacornscalne.co.uk
First Contact No: 01249 813792
Second Contact No: 07799275302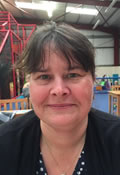 Personal Details: My Name is Alyson Garland, I have been an Ofsted Registered Childminder since November 2005. I live with my husband Barry and son Ben with our Cat ( Jessie),Hamster (Toffee) and Goldfish (too many to name). We live in a 3 bedroomed semi-detached house in a quiet part of Southern Calne. We have lived here for 13 years. My son goes to a local Primary school. We are a family run Cheeky Monkeys Childminding Service with Barry as my Childminding assistant who helps me with the school run in the mornings and afternoons. Barry and Myself have been CRB checked. I drop off and pick up from St Dunstans Church of England Primary School,Calne.
Activities: We live close to open fields and the River Marden which means we enjoy walks and the wildlife. All of my house is registered for Childminding but we mainly use downstairs consisting of Kitchen, Dining room, Living room and downstairs Cloakroom. The Garden which is fully enclosed includes a Playhouse,Large Trampoline, Large Trampoline and numerous ride on toys and other garden toys. We also visit Local parks,Jesters or Coral Cove Soft play Centres,Butterfly world at Wroughton, Whitehall garden centre where we visit the animals and fish and Roves Farm near Swindon. We go to local Playgroups weekly where the children can interact with others. I also am involved with Little Acorn Childminding Group which meets every few weeks. Other activities include messy play, painting,water play,reading,writing,bead work and a lot more.
My Experience: NVQ Level 3 in Children'sCare,Learning and Develpment, Level 2 Award in Paediatric first aid, Managing Childrens behaviour, Introducing Childminding Practice, Food safety for Child Carers, Level 2 Certificate in Food Hygiene and Safety, Level 2 Certificate in Nutrition and Health, Awareness of Child Abuse and Neglect, Intregated Working in Wiltshire V2 and Safeguarding Children Level 2. I keep up with any training that is available.
Contractual Details: Hours - Monday 7.00am-18.00pm, Tuesday 7.00pm- 18.00pm, Wednesday 7.00am-18.00pm, Thursday 7.00pm-18.00pm, Friday 7.00am -18.00pm. These are the hours I normally work,though I can be flexible outside these hours. We also do overnight care and holiday care.
Vancancies Details: If you would like to contact me regarding any vacancies I may have, please use the contact details at the top of this page and I will respond as quickly as possible.
Other Details: I use Busy bees and Accor vouchers.